noviCon Test
A giant thank you to our loyal partners
---
Thursday, October 18, 2018
to Saturday, October 20, 2018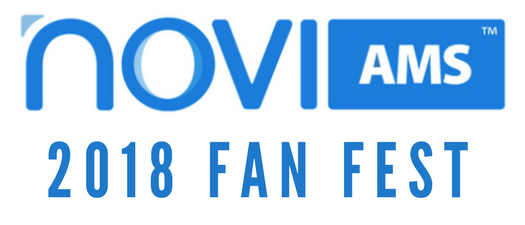 You built us. You designed us and created us. You continue to give us so much and make us a better product. We owe you ... a lot. We love our customers and we want to take this opportunity to say thank you!
Our team has planned a rock star celebration of all things novi ... and you're invited! For four days in June, we are going to show you the time of your lives! You and a guest are invited to experience our combination of fun, food, frivolity, and a whole bunch of southern hospitality. 
More Info
Location: Disney World, of course. 
The Dates: Wednesday-Saturday, June 7-10, 2018
Who's invited? We are inviting all current customers, as well as some groups that are on the fence. If this trip doesn't convince them that we're the best AMS product ever created, we don't know what will!
You and a guest are invited to join us.
Thank you to our rock star sponsors who make all of this possible.
And if you're STILL not ready to join us, maybe it's time for a Disney sing-a-long.
We'll see you in June!
Agenda
June 7
12:00 PM

Guests arrive

5:00 PM - 6:00 PM

Beertasting


Hosted by Russ and Mike
6:30 PM - 7:30 PM

Welcome reception


... and maybe some beach volleyball
7:30 PM - 10:30 PM

Completely unhealthy dinner options

June 8
12:01 AM - 12:02 AM

Fake Link


https://www.atl-apt.org/events/
9:30 AM - 10:00 AM

Breakfast delivered

7:00 PM - 9:09 PM

Dinner and fire-breathing - thanks Jenn!

June 9
9:00 AM - 1:14 PM

FORE!!!


Watch out for the Mickey bunker on #6
2:30 PM - 2:35 PM

Board shuttles for Epcot

3:00 PM - 6:00 PM

Russ & Mike challenge


Are you ready??
7:00 PM - 7:02 PM

Helicopter ride back to Magic Kingdom

7:30 PM - 10:04 PM

Dinner at super secret Club 33


The first rule of Club 33 is ...
June 10
9:00 AM - 12:00 PM

Spa Appointments


Who says no to that?
12:00 PM - 12:01 PM

Farewell ... for now
Download Agenda
Attendees (2)
1 Other Registered Attendees
For More Information:

101 South Garland Avenue Suite 108
Orlando, Florida 32801
(888) 504-6685