Back to Products & Sponsorships
Education Sponsorship
Sponsorship Opportunities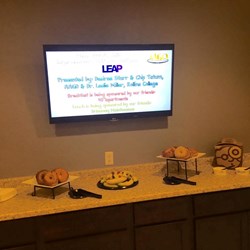 For most education classes, you are invited to put out all of your brochures, signs and banners. You have the opportunity to mix and mingle with the students, and you are introduced to the class to present for up to 10 minutes on your product and services. Sponsorships include your company's name and logo printed on all AONW marketing flyers for the particular event which are faxed out 3-4 times for each class. Additionally, you will be listed in our E-Newsletter and all email campaigns for the particular class.
Caps Express is a 4 day class for Regional Managers from all over the state of Florida and your logo and contact information is included in their books.
CAM, CAMT, NALP, CPO, EPA, Fair Housing, Landlord Tenant Law Module Sponsor: $99 plus the cost of food.
CAPS Express Sponsor: $3,750
---